Choosing a summer program isn't an easy task, especially for parents. Entrusting your children in someone else's care for the summer is daunting and can cause serious stress and anxiety.
However, the Irish Life Experience is committed to easing your concerns and worries and giving your children the summer of a lifetime.
Teresa Hemmer, from Naples, Florida and mother of Aubrie from 2014, gives you the Top 10 Study Abroad Tips for Parents.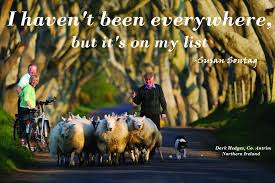 1. Safety and Destination
Students' safety is our number one priority at the Irish Life Experience. By utilizing Ireland's top educational facilities and experienced Staff, we provide the safest environment possible for our Program.
Irish Life Experience Staff on duty at all times.
All are trained in CPR and First Aid.
Maintain a Student:Staff ratio of 7:1.
There are hospitals near each campus.
Emergency numbers are available to parents.
Students have strict curfews and guidelines.

"This was one of my study abroad tips for parents, and I think the Irish Life Experience went above and beyond exceeding my expectations. They gave me the peace of mind I needed to let my daughter spread and soar her wings," said Teresa.

2. Educational Component
"One of the study abroad tips for parents choosing a summer program, would be areas of study. The classes and being able to use that for credit on transcripts was an integral part of our decision," said Teresa.

By the end of the Irish Life Experience, each participant will have:
Experienced campus living with their peers from all over North America.
Developed an understanding of the evolution of Irish social and political history from early AD to the present day, as well as how developments in Ireland have affected and influenced the rest of the world.
Read and reflected on the works of several authors from both contemporary and past Irish and Anglo-Irish literature.
Learned and been able to participate in the joys of Irish folk dancing.
Been introduced to the basics of the Irish language.
Working knowledge of Irish drama, music, and song.
Engaged in and have a general understanding of Irish sports; such as Gaelic football, hurling, and rugby.

3. Tours
Throughout the Irish Life Experience, students will see and visit some of Ireland's most historic places and impressive sights. They will experience Ireland's beauty through guided tours and scheduled stops. Each of our featured tours offers students the chance to step back in time to places that have retained their original beauty and historical significance. The tours provided are important study abroad tips for parents to to help choose a program for their child.
4. Information Provided
Teresa said there was a lot of information during the application process, when her daughter was preparing for the trip, and even during the program. "This was great, especially for a Type A protective mother. I loved the extensive packet sent out with all the details. It helped me know what to expect with my daughter traveling to Ireland. I also loved following along with the Irish Life Experience Blog. This should be one of the study abroad tips for parents to choose a summer program," said Teresa.
5. Cost
The Irish Life Experience includes round-trip airfare, twenty-four night accommodations with meals, transportation in Ireland, teachers and counselors, and tours and admissions.
You may be thinking right off the bat that you can't afford to send your child abroad. Sure, study abroad can be expensive, but it shouldn't be a deterrent. Read our Top 10 Fundraising Ideas to help give you some ideas on affording a study abroad experience for your child.
"Compared to many other summer study abroad programs, we felt we were getting the most bang for our buck with the Irish Life Experience. This is definitely one of our top 10 study abroad tips for parents," said Teresa.
6. Accommodations
The Irish Life Experience utilizes facilities and accommodations of different campuses in Ireland. From the coastal feel, to the lively city living and the cobblestone streets, students will be immersed in the historic culture and rich academics of Ireland.
While all of the campuses and boarding facilities encourage peer-to-peer interaction through communal living, each differs from the other, offering unique characteristics and highlights throughout their environment and surroundings. Dormitory living in Ireland will be fun and exciting, but different from what students may experience in the US. Dorms are efficient and functional.
Teresa said, "You definitely want to pay attention to accommodations being provided to your child. These are important study abroad tips for parents." .
7. Communication
Teresa said, "Direct contact with the Administrators of the Irish Life Experience helped ease my concerns throughout the process and helped me stay in touch with my child in case of an emergency."
I would recommend each parent look into communications policies of a program they are researching. This is one of the important study abroad tips for parents I would recommend.
8. Length of Program
Finding a program that isn't too long, but long enough where the student gets as much out of the experience was one of the study abroad tips for parents that Teresa found helpful. She thought that the Irish Life Experience provided the perfect balance between classes, tours, and free time. She felt that a program that was shorter would be too rushed and a longer program might be too drawn out, therefore the Irish Life Experience was a perfect fit.
9. Cultural Immersion
Not only does the Irish Life Experience provide students with the opportunity of living and learning in a different cultural environment, they also give each student a broad understanding of the cultural, economic, political, and social life in contemporary Ireland.
When comparing programs, some study abroad tips for parents are making sure the program provides a international travel experience which inspires students to explore other areas of the world. Teresa says the Irish Life Experience does just that!
10. Fun!!!
Emphasizing culture, education, travel, safety, and FUN, our programs insure a unique and unforgettable journey for every student.
Just ask Teresa's daughter, Aubrie. "This trip changed my life!!! Go, enjoy, HAVE FUN, and experience Ireland with the Irish Life Experience. Best money my mom could ever spend! Thanks Mom!" -Aubrie Hemmer
APPLY NOW and let the Irish Life Experience change your life!