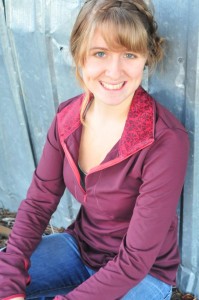 Is this a bunch of blarney? No! My name is Roseanna Stanfield and I would love to travel to Ireland with The Irish Life Experience.
I'm currently a Junior at Polson High School in Polson, Montana. I have participated in many extracurricular activities, such as Softball and Tennis. I belong to Art Club, Board of Governors-serving as the Vice President of the Junior Class, Key Club, Speech and Drama and have performed in the school play, "A Midsummer Night's Dream." Music is a dear passion of mine, as I'm a member of numerous vocal ensembles and also play the piano and violin. In my spare time, my interests and hobbies include biking, dancing, drawing, rock climbing, running, snowboarding, swimming, and walking.
I'm the youngest of eight children. I have had a wonderful time growing up in such a large close-knit family. It has been a lot of fun and a much different environment than having to grow up in a small family.
I'm really excited at the thought I might get to travel to Ireland at such a young age. Most of my other siblings did not have this opportunity and I'm very blessed I might be a part of this special program!
I would love to participate in the Irish Life Experience, because I have always wanted to learn about new cultures and places around the world. This is the perfect program for me! Ireland is an incredible country that is filled with a lively and historically rich culture.
The Irish Life Experience will be a summer of a lifetime, that I know will forever change my life. It is my dream to go to Ireland, but for this to happen; I will need your support. Please consider making a donation to help make my dream come true and allowing me to take this incredible trip to Ireland!
Thank you so much for your support!