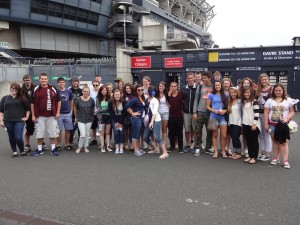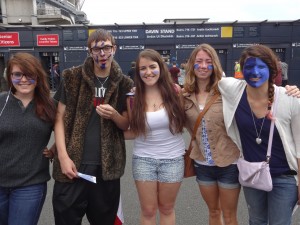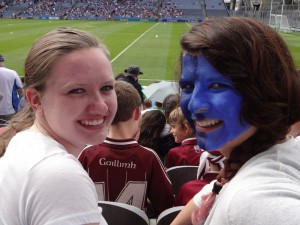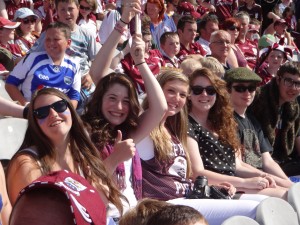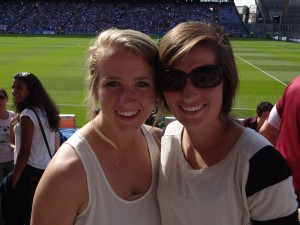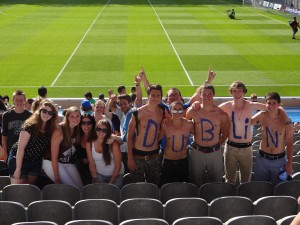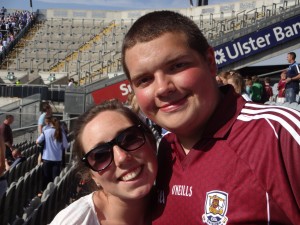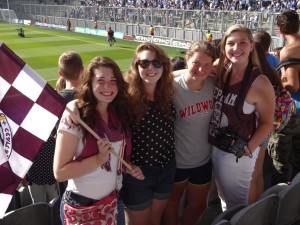 Sunday morning in Dublin-finally a lie in for everybody. A choice was given to all of the students to sleep in until lunch at 12.30 PM if they wished. The vast majority begrudgingly (!) accepted this, but there were a few who refused. Some students decided to go to Mass and Dan the Man drove to Lucan, a nearby town so that these students could keep up their Catholic rituals. Caroline said she was quite surprised at how short these masses were, especially since the Irish seem to be so good at talking any chance they get.
Marco was the only student not going to mass that decided to get up for breakfast. He said something in Italian, which I think translates to I would never turn down an opportunity to eat! Once everybody was well fed with a proper "match day" lunch of chips (French Fries) and hot dogs, they gathered on to the bus as fresh as daisies after their lie in. We were headed to Croker-or Croke Park officially. Croke Park is Ireland's biggest GAA stadium holding a capacity of 80,000. It's where every final for Gaelic football and hurling is played in Ireland and has a great atmosphere-always buzzing with excitement.
Croke Park is of historical significance as on Bloody Sunday, when Ireland and England were at war, the English drove into the middle of the stadium while a match was in play. They killed one of the players, who now has a stand named after him in the stadium-the Hogan Stand. Croke Park also hosts many concerts with the likes of Westlife, Robbie Williams, and Bruce Springsteen playing here quite recently.
The students all chose a team to support before we went to the match. Mostly dependent on which colors they liked best! Dublin was light blue and navy blue; Galway was maroon and white. We had a multicolored dressed group, but it didn't stop with their clothes. Melanie was the first to test the face paint. With assistance from Clara, she managed to cover her entire face in blue paint. We now had a smurf join our group! The face painting continued with Ellie, the Sneedster getting stripes on their cheeks, and Reilly getting Clara's blue handprint pressed onto his face. We had a few boys who decided face painting was a little too tame for them. Instead they wanted to spell out Dublin across their chests. Marco had the D, Nacho the U, Evan the B, Seth the LI, and Riley the N. (Which did not start off backwards!)
Some students really got behind the teams they wanted to support and purchased the jerseys before the game started. Devin and Herrms bought the Galway jersey and Chris, Evan, and Riley all decided to support the Dubs. Dan said it was a brilliant hurling game. The speed, intensity, and rivalry were all perfectly evident from our Cusack Stand seats in the sun. Galway were the favorites to win, but Dublin took the lead from very early on in the game and never lost it. Galway did attempt a few comebacks and came very close at one or two stages, but Dublin managed to take the cup. Very surprisingly, as they are known for their lack of hurling skills most years. The game finished with Dublin winning by 12 points, which most would agree was not a fair representation of the game. The students were all enthralled by the game, but some were distracted at different stages when they began chatting with some of the Irish kids sitting near them. Herrms had a great conversation with some Irish boys discussing the rules of the game-who their favorite players were and who they expected to win. Herrms did admit after it that she thought they were quite cute!
We managed to get elusive seats in the sun this year fortunately. Unfortunately, some students forgot their sunscreen and got slightly burnt while watching the match. The most notable burn by far has to be Seth's. As we mentioned he had painted 'LI' on his chest. Of course this protected certain areas of his chest from the sun conveniently resulting in a sun tattoo of 'LI.'
That evening, the film Michael Collins was played for the students-an Irish classic, with Liam Neeson and Julia Roberts. It depicts the story of one of the most notable and admired men in Irish history. Collins negotiated the free state with British politicians in 1921 and played a major role in the Irish civil war in 1922. Michael Collins was assassinated in a famous ambush at Beal na Blath in Cork in 1922. The students were wrecked tired from their day in the sun at Croke Park and just about managed to stay awake for the end of the film and then hit the hay.