Day 12 (July 10th):
We are slowly starting to wrap up classes this week. No one can believe how fast time has been flying by. In class, all of the students presented on Irish or Irish-American figures of their choice. Counselors Miles and Taryn were blown away by their preparedness and humor. Several students also did family members or local immigrants. Angie has also slowly been readying herself to cover James Joyce and continues to inspire students to seek out Irish literature on their shopping trips. Our teachers cover a diverse range of topics in their lectures, from slang to pop culture, and it makes us all so happy when our students really engage with the material.
After classes and lunch, I presented my optional workshop: an Introduction to Celtic Mythology and Folktales. I was so excited to prepare this because for the past year I have focused my studies on modern mythologies and the structure of fairytales. I am so pleased and grateful that so many students came to hear me babble about one of my passions! We covered a basic idea of the soul and death, some specifically Irish gods and goddesses, the evolution of mythology and the four cycles of Irish mythology. I especially wanted to focus on the Tain bo Cuailnge or the Cattle Raid of Cooley from the Ulster cycle, which is one of the most important pieces of Irish literature. Anna was very interested in the goddess known as the Morrigan and I happily provided a recommended reading list.
After that, the students had a workshop on genealogy with Taryn and Miles. Students received images of family crests, name meanings and locations of origin. I always feel the need to emphasize that even if a student has no Irish heritage or is unsure if they do, they should still apply for the ILE. This is a program about education and appreciation — you don't have to be Irish to be entranced by the beauty and history of this island!
After doing workshops, students had more free time at the Liffey Valley Shopping Centre. We have noticed that the girls are all slowly getting the same pastel pink skirt from Penney's and it just cracks us all up. Of course, some students chose to nap or putter around the grounds of the school.
In dance, students continue to practice fundamental jigs and soon Casey will be offering her Advanced Irish Dance workshop. We have some really talented kids this year in particular and the staff are so glad they've been having fun with it! Family and friends, please ask your kids to show off everything they've learned when they get home!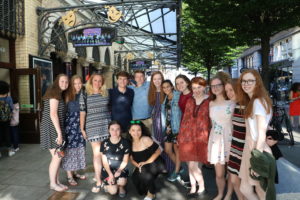 And of course, today we went to see the world famous Riverdance. All of the kids dressed up in their best and they had front row seats!! Everyone was just enthralled, even if they had seen it before. Of course, for Clare and Paige the highlight was the principle male dancer — who winked and smiled at them! Everyone came back to King's Hospital in a music-induced daze and we all fell asleep early.
I can't believe we're officially half way done as of today! 🙁 Because of this occasion, here are some bonus pictures from the very beginning of the trip: