Day Twenty-Four/Airport Day (July 22nd):
As it was our final airport day, we had another early day. I am happy and proud to report that the students left their apartments in near perfect condition, which was certainly an improvement over some past years. We rolled our luggage cases out bleary-eyed. Everyone said goodbye to Paige early because she was heading out to see her uncle.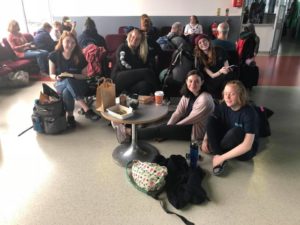 Our ride to Shannon airport was just long enough to catch a few extra winks. However, once we arrived it was time to bid farewell to Brian, which was only the beginning of the ensuing waterworks. We checked our bags in and said goodbye to Allison and Emily who had their parents pick them up at Shannon and then stay on longer in Ireland.
We made it through security with very little hassle and we were very early. All of us grabbed snacks or waters for the plane. Joe took a small catnap on the chairs. We got to board slightly earlier than expected and settled in for a nice long plane ride.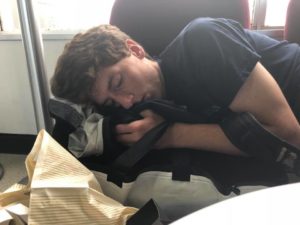 The landing in Boston could not have been smoother. After gathering up luggage we said even more goodbyes. Counselors then escorted students with connecting flights to their respective terminals or stayed with students waiting to be picked up.
Thank you, parents and guardians, for trusting us with your kids. From all of the staff, we are so privileged to have been able to teach them and learn from them. We hope they all made memories that will last a lifetime and fostered a connection to this amazing country.
Until the next time we meet. May the road rise to meet you — ILE18 out! Remember to keep an eye out for our Dropbox, and we will be notifying you once it is created via email.