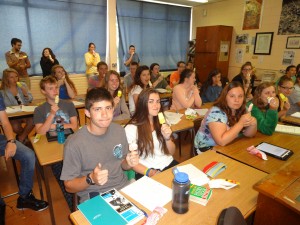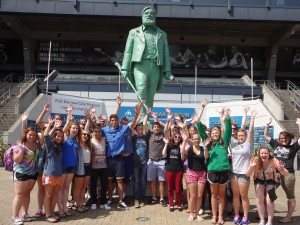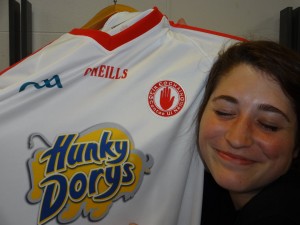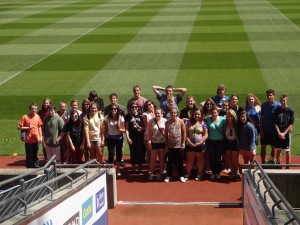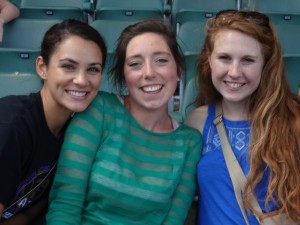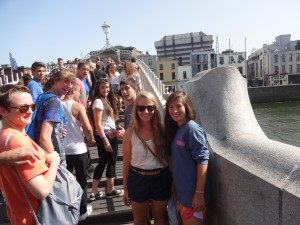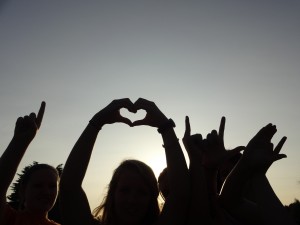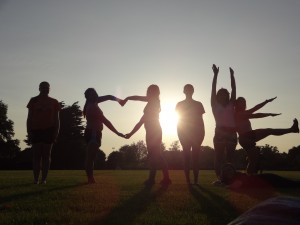 Today the heat wave in Ireland continued and we woke to glorious sunshine once again. It was also the last class day today-there was weeping and wailing until the kids realized that wey hey-it's holiday time!
During Irish literature class, Angie took both groups to sit outside and enjoy the sunshine while she read them a story called "The First Confession," by Frank O'Connor. The story is great craic and the kids really enjoyed it. Angie said the kids are a brilliant group and each and every one was an absolute pleasure to teach-to all parents reading this, you should be very proud of your kids.
Dan finished teaching the kids about the Irish Civil War and also explained 20th Century Irish History. Again he said the kids were a joy to teach.
During Gaelic class, the kids worked on presentations in Irish for tonight's talent show. Scones worked with the kids in groups to write scripts from modern movies, which the kids liked and it was amazing how they all grasped the Irish language after such a short time.
All the kids have been preparing a presentation on an Irish American of their choice for Irish American history and they were so good that only 15 of the kids presented during class time and we had to do another hour in the evening to finish off. They were absolutely brilliant! Dan and Taryn said that the kids put so much work into their research and again commented on how great they were. Kat won first prize-a book by Oscar Wilde-for her presentation on her Grandfather. The Sneedster came in second with her presentation on Lyndon Johnson and Jimmy Lynde's presentation on Alfred Hitchcock secured him third prize-a Kilkenny flag, which will have to be surgically removed as he has had it wrapped around his body since being presented with it.
During Irish American history it was so warm that we got the kids ice lollies to cool off and now some of them are addicted-just like Taryn-to Twisters and Loop-the-Loops.
Classes finished and off we trotted for yet another nutritious lunch-Aubrey and Dan were delighted with the egg mayo and the kids scoffed pizza.
The bus arrived at 12:30 PM and we all piled on and off for a tour of Croke Park, the largest amateur stadium in Europe. The kids saw the Leinster Hurling final there last Sunday and today showed the vastness of the stadium as when we did the tour it was empty as opposed to being filled with Sunday's crowd of almost 50,000 people.
We were brought to the back area of the stadium and the kids saw the changing rooms where all the County jerseys hang and took photos beside their personal jerseys and flags. Cian, our tour guide, was great craic altogether and encouraged the kids to ask questions and really get involved.
Riley asked how the grass looks so well and then Ellie asked the same question. Cian passed the tour guide mantle to Riley, who did a great job and we all agree that he could have Cian's job in future!
There is also an interactive section in the Croke Park museum with a part where the kids have to jump to knock off lights and this is based on how high the County players have jumped to reach the ball. Evan and Marco were brilliant and managed to get one from the top, which is the record. They did great and the ILE Staff have decided they should stay and play for Co. Fermanagh or Co. Wicklow-the only two counties who have never won a Championship match in the history of the game.
Next up was Dan's famous Walking Tour of Dublin, so that the kids know where to go during their free day tomorrow. The only negative of the whole day was that Dan forgot his Blindie-a traditional Irish tour guide staff. (Thanks to Edel Coenl.) Nonetheless, he did a brilliant job, being a native Dubliner and knowing the city like the back of his hand. He took the kids to Merrion Square, on to Grafton Street, over O'Connell Bridge to Henry Street, crossed the Ha'penny Bridge to Temple Bar-the funkiest area of Dublin-and back to the bus which was parked by Trinity College.
Today Dublin was jam packed and Grafton Street had so many people that when you looked straight ahead it was like a sold out rock concert. Evan can't wait to get back tomorrow and all the girls are beside themselves with excitement at the thoughts of shopping till they drop tomorrow.
When we got back to campus, we all had dinner and this was followed by an hour of Drama in preparation for the presentations tomorrow night before we leave for Killarney.
We decided to have the amazing ILE Talent Show and Scones said it was brilliant-the kids are absolutely amazing and we had great craic. The talents ranged from Tin Whistle-My Heart Will Go On and a special Twinkle Twinkle Little Star by Evan and Marco, (They got to keep the tin whistles, because they were so good!), to singing and dancing to One Direction. Angie joined in this, as she absolutely LOVES One Direction. Melanie wore her Zain mask, so it felt just like the real thing! The ILE Staff did a little show as well and that really gave the kids a giggle to see responsible adults singing all sorts of silly songs.
It's an early night tonight and the kids are starting to pack their larger pieces of luggage and get to sleep early before the Guinness Brewery Tour and free time in Dublin tomorrow.
Highlight of today? The laundry came back.