Day 4 (July 2nd):
The students had their third day of classes with Angie and Mike and Miles, and because the weather has been so gorgeous for the past few weeks, they were able to sit outside and enjoy the sunshine and breeze for part of it. Students have been saying "Dia duit" to me all day! (Gaelic for "hello"!)
So after covering more Irish American History with a discussion of the Ulster Scots; a reading of some of Frank O'Connor's short stories and a basic introduction to Irish music (with the very traditional instrument known as the kazoo) and language, the students were champing at the bit to go for a bike ride. We hired our cute little sky blue bikes at Durrow and the students bicycled down 12 kilometers — approximately 7 miles — of bike paths that trace the line of the coast down to the town of Dungarven.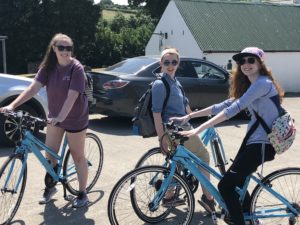 Unfortunately, poor Angie had a bike mishap en route when her chain got stuck in between her spokes but other than that the ride went smoothly. Once in town, the students had some free time to putter around the town for an hour or so and explore the cute shops and cafes, and take in a gorgeous view of the coast. Some of Dungarven's infrastructure was created from stunning basalt and almost every house had flowers in their window baskets. The sea air was refreshing and cool. It is the quintessential little seaside town.
Nancy said that during the bike ride, "the views were breathtaking. We were between these cliffs covered in moss and then suddenly we were in the city again!"

We had a lovely dinner of burgers and fries at Newtown and then it was time for the evening activities. Casey lead the students through another round of the the Walls of Limerick and the basic steps to a jig. The students have been split into three groups for their drama workshops and today we finished and presented some of the limericks they've created on famous Irish people. For your reading pleasure, here they are in all their cheeky glory:
1. There once was a man named Yeats
And his literature was full of taste
He fell in love with Maude Gonna
She says "of you I'm not fond"
Oh dear, what a terrible waste
2. There once was an author named Joyce
His writing was very noice
He drank till he fell
Feck, that boy's goin' to hell
Though he didn't have a choice
(Because alcoholism is a disease. If you or a loved one has a substance abuse problem, please call 018732699)
3.Beckett was an author of sorts
Didn't pimp, got blood on his shorts
Waiting for Godot
Or his prize, ya know?
His talents had no distorts
It would be an understatement to say that students exercised both brain and body today, and rose to the challenge of both! Also, we have achieved WiFi — stay tuned!