Day Sixteen (July 14th):
We bid a very fond farewell to Dublin. King's Hospital was home for a short period of time: full of fun, discos and vending machines. Starting in Killarney, the students begin to experience what we fondly call "vacation" which means no more classes, slightly later wake-up times and a relaxed schedule.
To begin this segment of our trip (and the days are going faster and faster), we stopped off at Blarney Castle. Goodness knows our kids don't need the gift of gab as they are already appropriately blessed. But that didn't stop some of them from trying to kiss the stone! We spent a good deal of our day exploring the grounds and gardens and paths of Blarney, then the Blarney Woolen Mills. The day was sunny and bright, perfect weather.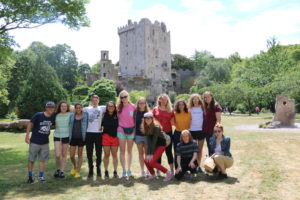 Personally, I spent the day on the Riverbank and Forest trails, and actually stumbled on the Colthurst family pet graveyard. The macabre aside, it was a very relaxing day for all after the chaos of moving out. Many of the students visited the Blarney gift shop or the nearby cafe for coffee, waters and snacks.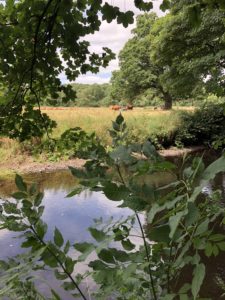 From Blarney we headed into Killarney. Before we stopped at the Gleneagle Apartments, grocery shopping was next on the agenda. There were four apartments for the kids and each apartment got €100 for food for the next few days. Students are now responsible for cooking or ordering themselves breakfast, lunch and dinner! Most of the students picked up pasta or pizzas for the next few days, and of course some of the apartments co-operated cooking.
Before we knew it, we found ourselves at the apartment complex, the place we will call home for the next few days. Clare was absolutely delighted to find a Riverdance poster in the elevator, featuring the face of Bobby Hodges. As mentioned before, Bobby had winked at her and a few of our girls in the front row the other day. It made an indelible impression.
Students got themselves situated and unpacked and then the cooking began! The air smelled delicious for the rest of the night. We all fell asleep early that night with the promise of a sleep in for the next morning.