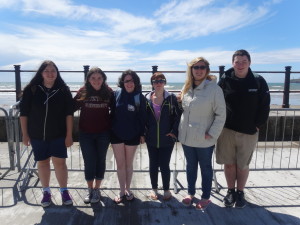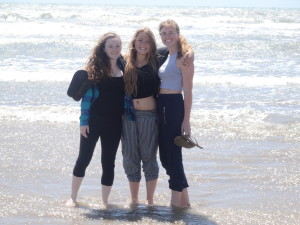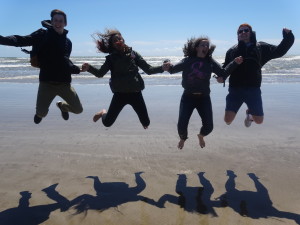 The students had the luxury of being allowed to sleep in this morning. Some took the advantage of having the morning off and with it being our first Sunday they went to Mass with Angie. Cate and Johanna were looking amazing dressed up in their Sunday best.
When everybody was getting dressed and ready for Tramore Beach the rain poured. And poured. And poured. So we weren't quite optimistic about the day as you can imagine. As soon as we arrived to Tramore, things had drastically picked up-the sun was shining and the students were grateful they had brought their swimsuits.
There was a festival on in Tramore, so there was definitely no shortage of things to do and see. There was a dog show across from the promenade that Laura was enthralled by. She said she'd never seen such cute puppies and such a range. There was a jumpercize class going on outside on the prom. Josie said it made her feel bad for the lack of exercise she had been doing in Ireland so far, so she decided she must join Clare M. for her morning runs from now on. There was a karate class also taking place on the prom. We had to take Kelton away-he was dangerous enough without actually being taught moves like that.
The highlight was definitely the air show that took place though. There were three different pilots that had quite exquisite skills and precision. Liam ducked once or twice though just in case the pilot's didn't spot his pretty face! I say this was the highlight, but it may not have been for everybody though. There were rumors that a certain Massachusetts girl and an Idaho boy might have taken advantage of the romantic beach setting!
Aiden, Kelton, Mary, Olivia and Siobhan went straight to the carnival though. The bumper cars were apparently much more impressive than those back in the states. The lack of health and safety requirements in Ireland may have been a contributing factor here, but that didn't bother our students too much in the moment.
There was also a human sized hamster ball on water available. Amelia and Ben decided to try this out and spent more time laughing-flailing and falling than actually running around the ball. The show they put on for everybody else was brilliant though. Margaret got the chance to really show off some of her gymnastic skills with the bungee string trampolines. The back flips and twists she was doing were impeccable.
Despite the sun coming out, the sea breeze was still quite strong. All of the ILE staff were huddled together on the beach wearing as many items of clothing as they could get their hands on. This brisk breeze didn't impact Clare M., Josey, Liam, Margaret, Mike, or Molly though. They all managed to strip off and make it into the water. Mike did an impressive run and dunk to avoid spending ten minutes hovering with his toes in the cold water. Liam and Molly had the same plan, but the thought alone of the cold water was enough to impact their speed and it took them a little longer than Mike to get in completely. Out of everyone though it must be said that Josey enjoyed this the most. Being from Montana,sShe mentioned it was her first time ever seeing the ocean and she just loved everything about it. The strength of the salt in the water was something she definitely wasn't expecting, but by the time we make it to Inch Beach she will be well used to it all.
Everybody made it back to Waterford just in time for dinner. After dinner there was a great surprise treat though as James, our adopted Irish boy, brought along his bagpipes to put on a show for our students who were all mesmerized at his talent. The talent did extend to our group though as James allowed Kelton to perform and proved that Irish music can be played just as well by any nationality.
There was just enough time to put on another movie before bed, The Wind that Shakes the Barley. This film focuses on the Irish War of Independence but shows how families were torn apart after the treaty was signed and the civil war began. There were a few students, not naming any names Amelia and Laura, who were crying as much as the staff at the end! It was great to see Josey the next day in class and know that our students were really learning from these movies as well. She was able to explain to some of the other students exactly what happened and why the families were split once the civil war began.
We are having a brilliant time with our #ILE15 students!