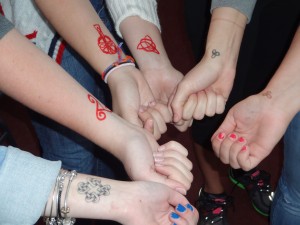 And what a way to start to lovely July–the kids had their first history class with Dan, where they learned that Barack O'Bama was from Co Offaly, which explained why his family were at Glendalough last week. The kids also learned about the wonders of Newgrange and the sacred Book of Kells. And, hopefully, they will now understand why their classes are called Cúchulainn and Fionn MacCumhaill.
In Gaelic with Scones, the kids practiced pronouncing their names in Irish. Scones is amazed at how quickly the students are picking up the language. She will have recordings of the most fluent speakers posted online by the end of the trip. Provided they work hard on their dance steps, that is.
Irish studies class with Taryn was slightly abbreviated today because of our trip to the Waterford Crystal Factory, but the students did manage to identify the provinces in Ireland and the 32 counties.
After a quick and early lunch the kids were blown away by what they saw at the famous Waterford Crystal Factory. Everyone had a smashing time, (Little joke there, keep up down the back.) especially Kayla who said that it was her favorite moment of the trip so far.
After the tour of the crystal factory, some of the kids enjoyed free time in Waterford, while the rest enjoyed our first afternoon of workshops. Scones kicked off our series of workshops-appropriately enough with scone making. We already have an order in from the PSNI riot squad for a batch so that they can use them in training. Apparently an oven issue. At least the guys learned that scones should not be made in triangles. Or in the shape of a map of Ireland.
Following Scones' scones, Aubrey put on the Celtic "Not Really Tattoos" Workshop. Aubrey was impressed by the kids lack of inhibitions. Some of them even turned out "pretty cool" as you can see from the pictures.
Dinner was great-fresh cod with mash and lots of veg-followed by chocolate muffins. This gave most of the kids the energy they needed for another epic game of soccer where Gru's goalkeeping was the stand-out feature of the game. Also, the least co-ordinated kid on the trip scored a goal. And if he doesn't pay me a hefty bribe I will name him.
By the time we had finished the soccer match, everyone was completely bushed and ready for a nice early night before the excitement of tomorrow's trip to the People's Republic.