Day Thirteen (July 11th):
Next on the list of our adventures was…the Guinness Storehouse and Factory tour! This location at St James' Gate has brewed since 1759 and their museum is shaped like a massive pint glass. We ate breakfast first and then headed down to the quays on the Liffey to tour the facility! Contrary to popular belief, Guinness is not brewed with water from the aforementioned Liffey but instead with mountain spring water!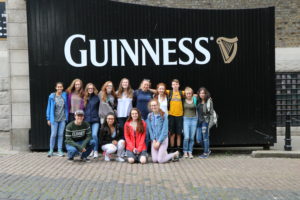 The tour opened with exhibits on the ingredients that make Guinness so unique and apparently two-thirds of all Irish grown barley are purchased and used by Guinness in their brewing. After ascending floor after floor, we learned more about the Guinness family and the art of brewing. I think one of the student's favorite floors was the one entirely dedicated to the famous advertising campaign that so universally endeared them. The "A woman needs a man like a fish needs a bicycle" quote was a big hit with students, especially upon discovering it on a t-shirt in the gift shop. Allison was very impressed.
None of the students were allowed to sample the Guinness but several did buy coffees or chocolates from the gift store.
After Guinness, Mike showed the students around the heart of Dublin. This tour featured the statue of Oscar Wilde in Stephen's Green, the National Museum of Archaeology and Trinity College. The students then split off, with a group going to the museum and another group heading into the city for food and shopping.
I'm not sure if anyone has been following the news lately, but there was a certain couple in Dublin at the same time we were…and myself, Issie and Caitlin saw…Prince Harry and Meghan Markle!! Unfortunately, none of us managed to get pictures but we saw them in the motorcade — and that's what counts! Clare and Paige were deeply upset that they didn't see them.
Most students spent their time exploring the city, ducking into coffee shops and looking for the various statues and historical markers dotting the streets.
We headed back to King's Hospital to relax and unwind. It was a long but fun day!