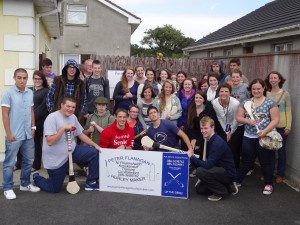 Early to rise and shine, as the students started out the morning with a breakfast of cereal, oatmeal, tea, and toast. Dee-lish!
Classes today consisted of Dan's Irish history class-learning about the Normans, Strongbow, and Irish plantations. He also shared the history of Cahir and Kilkenny Castle and prepped the students for the next day's tour.
In Gaelic, Scones taught the students numbers in Irish and started playing a game where they had to arrange themselves in order of their age and birthdate. She then spiced things up and gave them a different age and birthdate, which was very challenging for them. However, they all rocked it out and lined up with few mistakes. She was very impressed by how quickly they are picking up the basics of the language.
In Irish studies, Taryn gave a basic introduction into Genealogy and found all of the students' coat of arms and a short history of their family names. Megan couldn't wait, as she was very interested in learning about her families' roots and where they originated from in Ireland. Taryn even found Jaiden's (German), Marco's (Italian), and Nacho's (Spanish) family history.
The rest of the afternoon seemed to revolve around the students learning a traditional Irish sport; hurling (Not to be confused with what you do when you are sick.).
To start out our afternoon tour, the students went to Peter Flannigan's home in Waterford; one of the finest hurley makers in Ireland. He spoke to them about how the hurley was made and about the game. They then had the opportunity to purchase their own hurleys and sliotars. Chris, Evan, Gru, Riley, and Tiernan all took advantage of the unique opportunity and invested in their very own hurley. I'm sure they will be trying to teach this amazing sport to some of their family members when they return home. Get ready for some fun lessons. Some of the girls also decided to buy hurleys-however, small ones for souvenirs. Jaime and Katie thought it would be a great idea for all of the students to sign them and take them back as momento of this summer's group.
It was a beautiful day, so after our visit to Peter Flannigan's home, we decided to go to Tramore. Tramore is a beach town with a fun fair running along the water. Just like the Jersey Shore. The students couldn't wait to experience a dip in the ocean and let out some screams on the upside down rides. "There's a beach and a carnival? Life is good," said Gru. Clara was also ecstatic as it was her first time ever seeing and swimming in the ocean. She and Melanie were the first to race down to the water and jump in the crashing waves. They were only able to stand the water for about two minutes, as the Irish ocean is not known for being very warm.
Many of the other students had fun going on roller coasters, eating candy floss, and getting some rays on the beach. Taryn even went on the Dominator with Caroline (Carl), Gru, and Sarah A. My oh my, was that a mistake. The Dominator is a five minute ride that spins upside down and whips you back and forth at high speeds. Taryn thought she was going to toss her cookies and was yelling out expletives the entire time. Sorry parents. Never again! She should have gone on the bumper cars with Clara, Katie, and Mel!
After our fill of Tramore, we headed back to Newtown Boarding School for dinner and a GAA (Gaelic Athletic Association) Hurling Workshop from one of the Irish Life Experience's good friends-Mark Cooney. Mark is a coach for the Waterford GAA teams and has been coming out and teaching Gaelic football and hurling to our students for the past ten years. He brought Trish Jackman to help-one of the best Camogie (Women's hurling.) players in all of Ireland. What a treat!
Hurling is an outdoor game of ancient Gaelic origin. The object of the game is for players to use a stick made from ash wood (The hurley.) to hit a small ball called a sliotar between the opponents' goalposts either over the crossbar for one point, or under the crossbar into a net guarded by a goalkeeper for one goal, which is equivalent to three points. The sliotar can be caught in the hand and carried for not more than four steps, struck in the air, or struck on the ground with the hurley. It can be kicked or slapped with an open hand (The hand pass.) for short-range passing. A player who wants to carry the ball for more than four steps has to bounce or balance the sliotar on the end of the stick and the ball can only be handled twice while in their possession.
Mark and Trish taught the students basic drills and methods of the sport. They were very impressed with the athleticism of the students. Evan, Marco, Nacho, and Riley excelled very quickly and Mark said they were naturals. They even had a friendly competition for a puc fada (Long shot for the sliotar.). Jaiden and Katie won for the girls and Miles won for the boys. They all won souvenir sliotars. It was great to see the students so enthused about the sport and Sarah B. said she can't wait to see the Leinster Finals at Croke Park for hurling!
Afterwards, the students participated in Aubrey's Waterford Scavenger Hunt. Students were split up into teams and had to find and take pictures of certain things around town. An American flag, Bishop's Palace, a place to eat fish and chips, postcards, someone walking their dog… The students were amazing and the Fire Warriors of Eddie (The Newtown Boarding School's Caretaker's son.), Ellie, Emily H., Kate, Melanie, and Sarah C. ended up finding everything in the shortest amount of time. They won and were presented with Waterford flags! Ellie said she had a lot of fun, but was very tired from running around everywhere.
The students were exhausted, so many relaxed around campus, watched a movie, or wrote in their journals for the rest of the evening.
To echo in Gru's words…, life is definitely good!