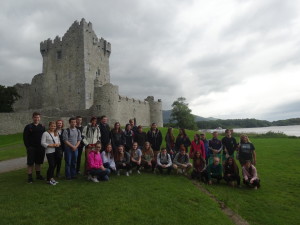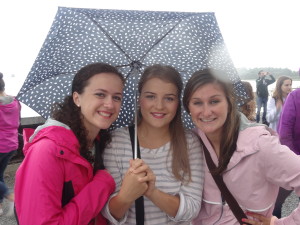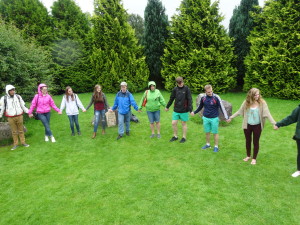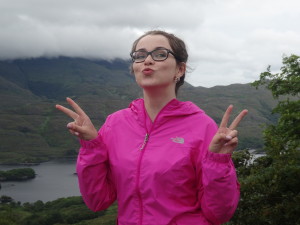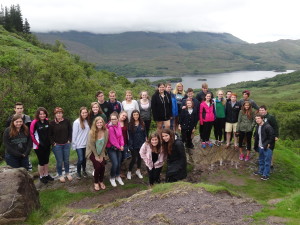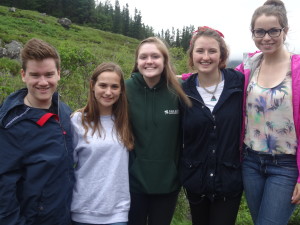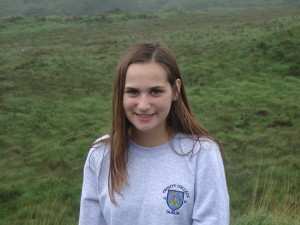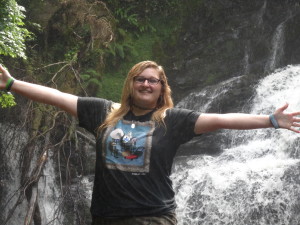 Today we were all at the bus at half nine for our Mini Ring of Kerry Tour. Our informative bus driver, Tom, took us first to Ross Castle, where students were allowed to explore the castle grounds which rested upon the edge of one of Killarney's lakes. The weather today was a bit grim, but made for interesting light for our photographs.
Molly and Owen scaled part of the castle wall for a photo. Kelly had made her way to the upper level and was waving like a queen. Many selfies were taken in front of the spectacular view, which included the lake, distant mountains, and even a few swans.
Clare B. was determined to touch a duck. Unfortunately, they were just too quick! Kelton made his way around the front of the castle in attempt to get some artsy photos (Which he'll hopefully share with us soon!).
From here, we left for Kenmare to visit the ancient stone circle they have there. It is said that they used to make sacrifices on the center stone to please the gods and spirits. As a group we held a sort of ILE ritual ourselves. Forming a circle, everyone took hands. The ILE Staff took turns giving each student Spirit Names, "From now on Mike, you shall be known as…, Sperm Whale!" Molly now goes by Kinkajou, Clare M. goes by Thunder Cloud, and so on. Ben, Laura, and Owen were all in stitches after hearing some of the names given!
From here, students were left to buy lunches in town or eat packed lunches they had made themselves. It was a bit cold and rainy today-jackets and fleeces were definitely needed. Some students filled up with warm scones and hot chocolate or lattes, others went for soup of the day or toasties. And of course, there is always room for ice cream!
After an hour of free time in Kenmare, the ILE went back on the bus with their driver, Tom. Tom is from Ireland, so hearing his musical accent while driving through the Irish countryside just added to the ambience of the rolling green hills, fog, and mist.
For a short while we played some music on the radio and the students couldn't help but sing along-a very musical bunch we have!
As we drove, Tom explained how we were passing through Moll's Gap. There are only two breaks, or gaps, in the mountains and that was one of them. The two halves of the mountain swept down, naturally, to the road below as we passed through, leading us on to the Ladies View, and what a view! I can't imagine any photo taken here will ever give the sight justice!
Students took less selfies here and more photos with each other. Something about this place had to be remembered with friends.
As Clare M. was being photographed with friends she commented, "maybe I'll make the blog today." -here ya go Clare!
Ladies View-#AccordingToMiles-men would leave the ladies just sitting there with the view while they sat in the cafe or were off hunting. #BallAndChain. #SeeYa.
Another scenic route took us home again, back to our apartments where students had free time to cook dinner, nap, watch TV, or go into town.
The Michael Collins group, which included Amelia, Johanna, Josey, Kelly, Mike, Owen, and Rebecca were off to their prize night out: The Ghost Tour of Killarney. Correctly assuming that the tour would be scary, Kelly happily gave her spot to Molly.
Poor, unfortunate, Molly sat in, what she believed to be, the safest seat on the bus. (Now, let's talk about this bus-dark, full of fog, sculls, seats missing to make room for more scary things! Windows covered. Dark.) She was nestled in the way back-out of the aisle with Josey next to her. Little did she know that upon reaching our first destination that the side of the bus in that very spot would break away with a loud, "Aaaaahhhhhrrrrr!" And a man reaching for her!
It was unexpected for all of us! We hear a scream and turn back to see that Molly had jumped straight into Josey's seat, leaving Josey on the floor! Everyone burst out laughing with excitement, and a little nervousness wondering what could possibly happen next.
Though the ride was a bit scary, the stories told here were fascinating. Did you know that Halloween derives from an old Pagan festival? They believed that spirits of loved ones were always around, but during this time the vail that separated them dissipated. They would have bone fires (Origin of our "bon" fire.) burning bones of animals as an offering to the spirits, in hopes that they would feel included and happy. For if they weren't happy, they may play tricks on you.
We arrived at an abbey, dating back to the 1400's. Story goes that this abbey was one's first class ticket to Heaven if buried there, but at one point there was no room left. So people would dig up graves, toss the original bodies into or around the abbey itself, and bury their loved ones in their place-leaving the building full of decay.
Of course it's cleaned up now, and the grounds are still used as a working cemetery today. So with respect, we continued on deeper into the church. In the center of the courtyard was a 600 year old tree-quite beautiful.
As the tales continued Amelia and Counselor Casey linked arms and kept an eye out in all directions. Molly and the girls were huddled and hugging each other, as one of the tour guides would jump out at us here and there-having done this for quite some time, his timing was impeccable.
We all made it out in one piece. On the ride back into Killarney, Rebecca told us how she felt something touch her leg when everyone was in the abbey and Mike had a great picture of a few good orbs on his phone.
We stopped quick to get some ice cream for the walk back to the apartments. Yumzers.
Those who did not go on the Ghost Tour visited each other in the apartments. Robert even hosted a tea party which Counselor Kate said was a lot of fun!
Another amazing day in the #ILE15 books.