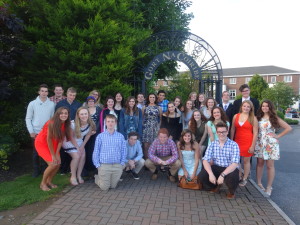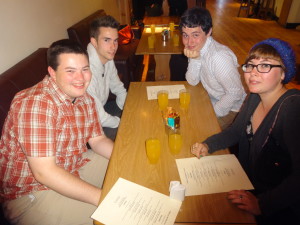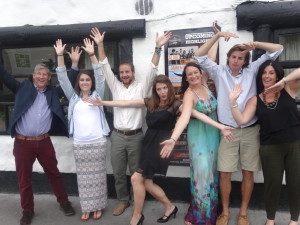 It is our last full day in Ireland! We cannot believe how quickly this trip has gone by. Johanna and Molly said that they were going to cry all day because they were so sad that our trip was almost over. The students had a free day. Many of the ILE'ers went exploring the shopping center of Galway and picked up last minute gifts. Carley and Owen were so happy that they finally got to sleep in!
The final banquet was scheduled for eight o'clock at the quaint, Irish pub, Monroe's, in the heart of Galway.
Once at Monroe's in our private room, the students dined, chatted, and laughed with one another. The students ordered from the menu and many of them had ordered Apple Pie and Bailey's Cheesecake for dessert. After dinner, some students went into the pub (With an accompanied adult, of course!) to watch the traditional Irish step dancing. Aiden said that he wished he knew how to step dance so he could join in!
We soon made our way back to our home at Gort na Coiribe. The students had an hour to pack before going to the ILE Staff apartment for a little presentation. Kelton said he didn't need anytime to pack because he had already been packed for two days! All 30 students piled into the small apartment to watch the ILE Uptown Funk video that had each student dancing at the various places we had traveled to in Ireland. We have such an amazing group of talented dancers! Next, Taryn played a slide show full of pictures from the trip, accompanied with every song that can make you cry. The music must have worked because the room was filled with misty eyes. The students reminisced about their days together on this amazing journey. Next was the Paper Plate Awards. These awards are created by the ILE Staff and given to each student. Sheila was elated to win the Minnie Mouse Award and couldn't wait to change into her Minnie Mouse onesie! Taryn gave all of the students a USB drive, Certificate of Completion of the ILE, and an Irish flag. Evan was so excited that he now had all of his favorite songs! Laura said that she was going to listen to them on her way back home to help her remember her amazing trip.
We had a very special surprise from our favorite ILE writer, Evan! Evan read us a poem that described his experience on the ILE. His poem was absolutely brilliant. It made us laugh and brought all of us to tears. It is amazing how 30 strangers can become such amazing friends in just a month's time. Tears were running at the end of the presentation.
After a long evening, the students went back to their apartments to finish packing and hang out with one another. Cate, Clare, Johanna, Liam, Mike, and Molly bought energy drinks and vowed to stay awake all night long. We'll see if they're actually successful!
The ILE Staff feels so grateful to have had such an amazing group of students to spend their summer with. Tomorrow will be filled with tears, but tonight, we'll just enjoy each other's company.