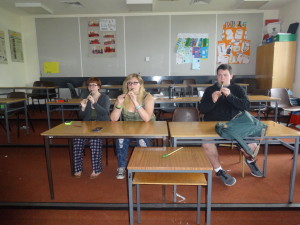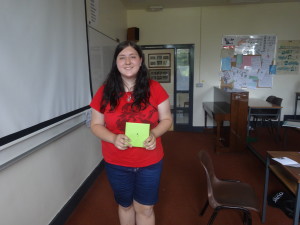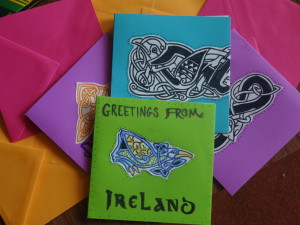 And so begins another day… Today was a class day so compared to the early start yesterday, the kids had a bit of a lie in this morning and had to be at breakfast at 8.30 AM as usual. Today all the stops really were pulled out and in addition to Rice Krispies and Cheerios-there were also homemade Irish scones. We all agreed that although they were nice they weren't a patch on the scones the kids made in Waterford-even if they did look like mutants.
Literature class was first up and the kids asked Angie to read a story, so they were treated to "The Drunkard," by Frank O'Connor. Angie explained the concept of the Irish wake-a celebration of life after a person dies, and The Drunkard tells the story of a young boy who goes to a wake with his father. He has a terrible thirst on him and an avid curiosity and decides that the only way to sooth both is to treat himself to his father's pint of Guinness when his back is turned. We won't spoil the story, but needless to say it's hilarious and the kids have been given a copy to take home.
Next up was Miles and Irish American History when the kids did their presentations-including Curt Cobain by Siobhan and Robert did a really compelling presentation about his grandparents and how they met. He is hoping to meet a nice Irish girl when he is here so that in the future his kids have a story to tell too.
Scones did her session on Irish History and taught the kids more Gaelic in preparation for their Gaelic presentations. She even played Gaelic Twister with the group, which was a student favorite. Scones was amazed by Josey and Molly and their flexibility. However, it was Mike who won the gold as the 2015 Gaelic Twister Champion. Ben said they are having great craic doing these.
In Irish Studies, Taryn finished teaching the kids all the great Irish slang-it's great craic listening to them when they come into the office speaking like Irish kids, so be prepared for when they return home! Taryn also started the game of Irish Jeopardy and the laughs coming out of the room when we passed in the corridor would put a smile on a face like a bucket of potato skins.
After a nutritious and delicious lunch, there was free time for those who had yet more shopping to do and workshops for Tin Whistle, Celtic Card Making and Advanced Irish Dance. Scones couldn't believe the music abilities from Julia, Laura, and Owen. They could definitely start a sessiun in Galway with their tin whistle brigade. Meanwhile, Casey was blown away by the creativity of the students making some homemade Celtic cards to send back home. Not to ruin the surprise for some, but parents are really in for a treat. The Advanced Irish Dance Workshop also kept Clare B., Molly, and Sheila busy, as they prepared for an original dance to a One Direction song.
Dinner consisted of yet more nutritious and delicious food and then it was dance and drama. On Monday, before we leave for Killarney the kids have to do a drama presentation on one of four Irish characters. They work in groups, which is great for team bonding and having a bit of craic. They have all been working really hard and the ILE Staff can't wait to see what delights are presented on the night.
PS I Love You was the movie of the evening and Kelton said it was the worst movie he's ever watched. Angie agrees… However, Clare B. and Molly absolutely loved it to the point that there were snots, tears, and boxes of kleenex used!!!
And so ends another day in Dublin. Bed check was good fun and some of the kids had a lullaby before dropping in to a dead sleep and dreaming dreams of seeing the sights, visiting the Guinness Brewery and of course shopping 'til dropping on the free day in Dublin tomorrow.
With that we bid you goodnight!