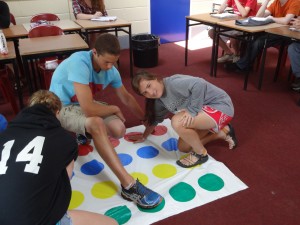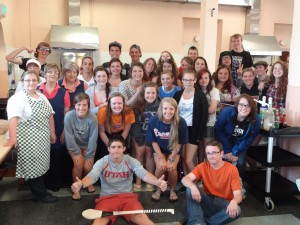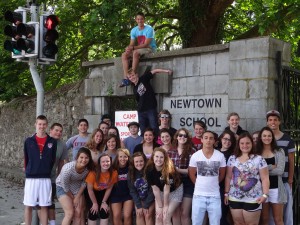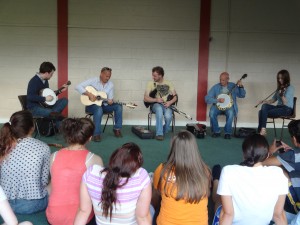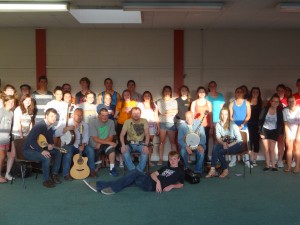 Top of the morning! Today started out like any other normal class day. Breakfast was served bright and early and classes started at 9 AM.
In Scones' Gaelic Class, students learned the words for right (deis), left (cle), hand (lamh), foot (cos), red (derag), yellow (bui), green (glas), and blue (gorm) and played Gaelic Twister. Clara, Erica, Evan, and Jaids definitely showed their flexibility and knowledge of Irish by beating their friends.
In Irish literature, Angie read the Drunkard by Frank O'Connor.
In Irish studies, Taryn taught the students Irish slang that would come in handy over the next few weeks.
During the break between classes the students packed the rest of their belongings and got ready to leave their first home in Ireland.
After lunch, we all said our goodbyes to the Staff at Newtown Boarding School and hopped on the bus heading north. Dublin or bust. About five minutes into the ride we crossed the bridge going out of Waterford and saw our adopted Irish friends (Eddie and James) that had been hanging out with us for the past couple of days. They were standing on the side of the road with their County Cork flags that all the American students had signed. A few of the girls got a little emotional-knowing that it could be a while before they saw the Irish dreamboats again.
We pulled into Kings Hospital after 4 PM and got settled into our new home for the next week. After rooming assignments were squared away, the students had almost an hour of free time before we ate salads and pasta with other student groups that were here with other programs.
The kids split into their drama groups and started working on their next assignment; a skit that creatively and accurately tells a story about an icon in Irish history. The Michael Collins and Padraig Pearse groups seem to be the biggest competition so far, but we will see on Saturday during the drama presentations.
Angie's brother, Tom, and some of his mates from Belfast came down to teach us about traditional Irish music. They played several songs on their banjos, mandonlins, pipes, flutes, bazouki, and violin. It was such a treat to see so much talent sitting right in front of us-and to see how much the students appreciated the musicians was amazing. Marco, our only Italian student said that he never knew how much history came from instruments made in his country. After the music workshop, the students had free time. Some went to a disco that was hosted by the school and made friends with other Italian and Spanish students. Others played soccer, while a few tried desperately to use the wifi (Which proved to be much more of a challenge than anticipated.). The weather has been absolutely gorgeous and I think everybody is very excited about Croke Park for the hurling match between Galway and Dublin tomorrow.
Hip Hip Hooray for a great day.