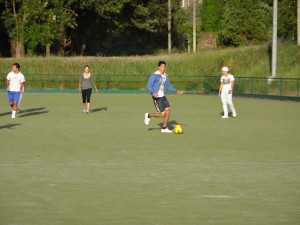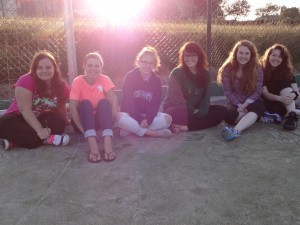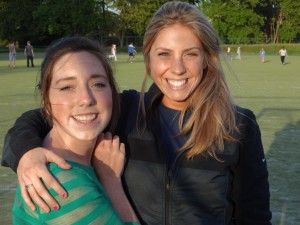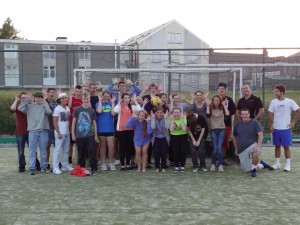 The ILE students woke up bright and early for their first class day. They showered, ate their breakfast of cereal, oatmeal, toast, and tea. Then they were split into two different classes of 15 students-Cuchulainn and Fionn mac Cumhaill (Famous Irish legends that Dan thought would be fun to hear the students pronounce.) for Gaelic, Irish American history, Irish history, Irish studies, and literature.
Today's schedule was a little unique, as Dan had to drive back to Dublin to pick up poor Megan, who had missed the flight the previous night. So the students had two classes of Gaelic, two classes of literature, and one class of Irish studies.
Cuchulainn's Class had Scones for Gaelic first and translated their names into Irish.
Marco Bilato-Marcas De Bláca
Kayla Corrigan-Cáit Ní Choraillaigh
Emily Herrmann-Emíle hIarnáin
Emily-Kincaid-Éibhlín Cinnicéid
James Lynde-Seamus Ó Loinn
Devin Maloughney-Daibhín Ó Maolfhachtna
Riley Mullen0Raighailligh Ó Maoláin
Erica Nelson-Erin
Reilly Pitzer-Raighailligh Ó Phitsaor
Seth Powers-Saibh De Paor
Ignacio Quintana-Ignacio
Taryn Sneed-Taristeach Glicín
Jaiden Toth-Sinead
Megan Vancil-Meágaín
Melanie Vecchia-Spooner-Méalaon
At the same time as Cuchulainn's Gaelic Class, Angie taught Fionn mac Cumhaill's Class Irish literature. Angie shared the history of Irish literature with the ILE'ers and then read a story by Frank O'Connor to them. Kate L. loves everything Shakespeare, so she is very intrigued. "I find this class fascinating," she said.
After 45 minutes, Angie and Scones switched classrooms and taught the different class the same subject.
Scones continued to translate names into Irish for Fionn mac Cumhaill's Class.
Sarah Augsbach-Sorcha Ní Aiséir
Clara Bohlin-Cláir Ní Baoill
Emily Bryan-Emíle Ní Bhriain
Sarah Bryan-Sorcha Ní Bhriain
Caroline Buchanan-Cearulín Ní Bhuacháin
Kathleen Clifford-Cáitlín Ní Seifeard
Evan Connelly-Éabhán Mac Glicín
Sarah Cranney-Sorcha Ní Cearrúnach
Tiernan Goodfellow-Tiarnán Mag Uiginn
Amanda Harrod-Éibhlinn Haróid
Patrick Kane-Padráig Ó Catháin
Kate Lanagan-Cáitlín Ní Lonagáin
Katie Robbins-Cáit Mac Roibín
Christopher Robinson-Críostoir Mac Roibín
Jaime Walsh-Séamí Ní Bhreathnach
They then had a quick break and went into Gaelic and Irish literature class for a second time.
Scones taught Cuculainn how to say Hi! (Dia Duit!), How are you? (Conas ata tu?), My name is__________. (__________is anim dom.), and What is your name? (Cad is anim duit?). Afterwards, they had conversations with each other using the Gaelic they had just learned, so it was great practice for them.
Fionn mac Cumhaill's Class learned about WB Yeats' life from Angie and they read some of his works.
The last class of the day was Taryn's Irish studies and they learned about the Geography and Geology of Ireland. Quite a few students decided to leave class a little early with Aubrey and go an Irish Mass. "I couldn't believe how fast Mass was!," said Amanda.
The students then had lunch, before they were allowed free time on their inaugural trek into Waterford. Dan and Scones gave the students a quick walking tour of the town, pointing out places of interest.
Katie R. said she loved scoping out the shops in Waterford and can't wait to use her Penney's Gift Card from her sister Felicia. She said, "Cool, wow, awesome, I'm excited."
The rest of the afternoon was spent relaxing on Newtown Boarding School's Campus-playing Head's Up and doing impromptu Harlem Shakes. What a blast we had!
After dinner, the evening was occupied by drama with Aubrey and Miles and dance with Scones. In drama, students were split into four groups and assigned historical Irish figures. Their first assignment this week is to write a limerick on their Irish figure-AABBA rhythm. It will be interesting to hear them on Friday:). The winners will be posted on the blog.
In dance, Scones worked with the students on the basic 1, 2, 3's and 7's. Seth said he can't wait to learn a few jigs and reels and bring them back to Montana.
It was a busy day and we decided to end it with a great game of soccer in which everyone participated-either playing or cheering. Dan said he saw some impeccable goal keeping from Devin (AKA Gru) and Mel. The ILE'ers had a blast and capped off the night with the Inbetweeners' movie. What a great day!