We had a fun-filled day on the 4th of July, starting with breakfast and a bus trip to our first destination-Cahir Castle. Cahir overlooks the River Suir and is encased by thick stone walls from which two cannonballs still protrude. There was even a scene of Braveheart filmed here.
Next up, we toured the Rock of Cashel. This site is located on a promontory that local legends say was uprooted from the nearby hills by the Devil himself and spat out onto the land. The grounds contain a series of Medieval buildings-from the 12th century round tower, High Cross and Romanesque Chapel, 13th century Gothic cathedral, 15th century Castle and the restored Hall of the Vicars Choral.
For our final trip of the day, we loaded back onto the bus and drove to Kilkenny. We bypassed the Kilkenny Castle tour, as most of the Castle has been modernized and refurbished. However, we did make a stop in the castle's rose garden for a group picture.
The kids were given some money and two free hours in Kilkenny to explore and grab an early dinner. Loaded up by 5:00 PM, we headed back to Waterford to make it back for the 4th of July dance. The dance was held by a Spanish group staying on the grounds of Newtown and they invited our students to partake in the festivities. Our students were enthralled with being able to meet and interact with students from other cultures.
After the dance, we held our own 4th of July celebration. We had a pizza party while we watched The Breakfast Club. It was a great way to end the evening. The students definitely needed the relaxing activity after all the hype of the dance.
At the end of the night when I did the evening bedtime check in, I was told that today was the best day so far. However, we seem to hear this reaction every couple of days. Hopefully we can continue to amaze and inspire the children with this beautiful country.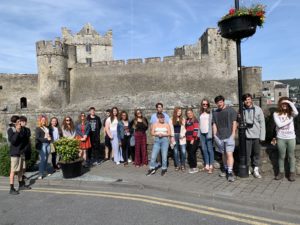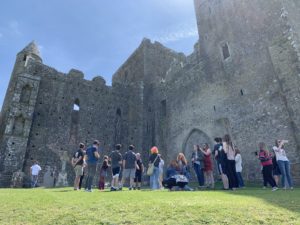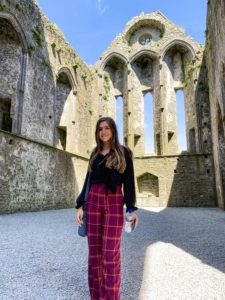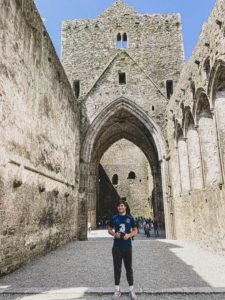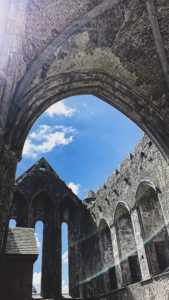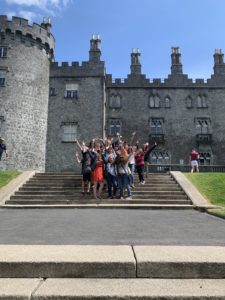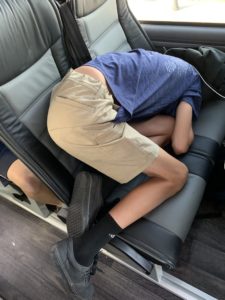 PS… Here is another picture of our little Benny the Jet sleeping on the bus for your enjoyment-with his consent of course. By the end of the trip, we are going to be able to make an entire video montage of his funky sleeping habits.