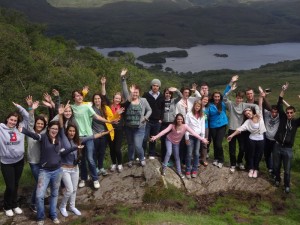 Céad Mile Fáilte (A Hundred Thousand Welcomes) to the Irish Life Experience, a summer study abroad program in Ireland offered to both American and Canadian High School students.
Over the course of four weeks during the summer in Ireland, high school students are introduced to its magical landscape and rich heritage through a variety of workshops, classes, and tours. Emphasizing culture, education, travel, safety, and fun, our programs insure a unique and unforgettable journey for every student.
Through generous donations, the Irish Life Experience has been able to afford the opportunity of academic travel many students and young people who have not been financially capable of joining our programs on their own.
You can help change and shape a young person's life with a donation of any amount. Please consider helping our young people learn about the Irish culture and traditions, travel the exciting towns and landmarks of Ireland, and appreciate the Irish heritage.