Day Fourteen (July 12th):
It's certainly ironic that almost none of our students have accounts, but today only proved that you don't have to be on social media to appreciate the monumental force that is Facebook. We visited their headquarters for lunch and a tour. One of our 2004 alumni Eric Shadowens works here in Dublin and we had the absolute pleasure of being shown around the facilities. Funnily enough, Eric is also one of Clare's family friends and she only realized that after meeting him!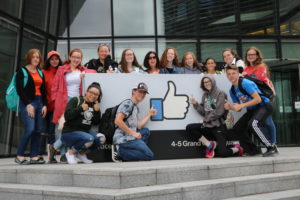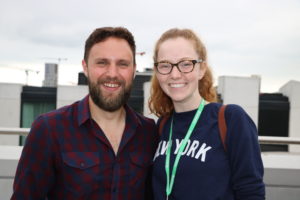 We began with an absolutely delicious lunch that was themed after French cuisine. As you can imagine the kids lost it when they saw all of the amazing desserts. We met some of Eric's coworkers and started our tour. Of course, we could not interrupt the daily work lives of the employees, but we toured recreational spaces. The design and thought that went into the office itself was remarkable. There were air purifying plants everywhere, plus very carefully constructed light and sound features.
At Facebook, the balance between work and play becomes blurred to enhance creative thinking. Our tour started on the upstairs level right next to a Lego wall where employees could spend time creating. Our students made their own marks too — writing their names, or just creating aimlessly. We learned about some of Facebook's initiatives to become more green-friendly and to work with satellites to spread internet access. After we bid Owen a farewell (with some students threatening to just stay in the cafeteria for the rest of the trip), we headed down to the small square between Facebook and our next destination for a quick coffee.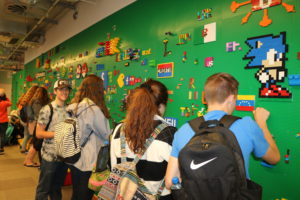 The next stop on this technological roadshow was at Google's headquarters. We were welcomed warmly and toured a facility very similar to Facebook's, but slightly more formal. There was also an official Google souvenir shop, where a lot of the girls bought matching sweatshirts.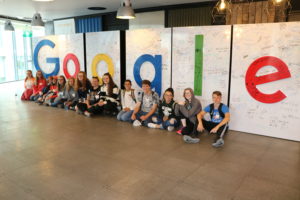 We headed home for a delicious dinner and our last drama sessions before final presentations tomorrow. However routine this might sound, after drama tonight became one of the most iconic nights of the ILE: the talent show. Our students had a diverse selection for us — from Nancy singing "Bear Necessities"; Anna singing the iconic "Pure Imagination"; Ethyn doing magic tricks; and Joe dancing (??) with bubbles, among other performances. The staff even participated, chiming in with a few traditional ILE songs.
To finish off the night, Eric rejoined us with his bandmates Matteo and Eddy for a session and they regaled us with traditional Celtic tunes. They sang a very timely rendition of "Grace", which recounts the heartbreak of Joseph Plunkett and Grace Giffords. Joseph Plunkett was a hero of the 1916 who married Grace not even hours before he was executed in Kilmainham gaol. We will be visiting the GPO and Kilmainham tomorrow. There was not a dry eye to be found. However, other classics like "Whiskey in the Jar" cheered the room up considerably.
After the session, students went off to bed contemplative and exhausted from a long, spectacular day. Our stay in Dublin has almost come to an end.