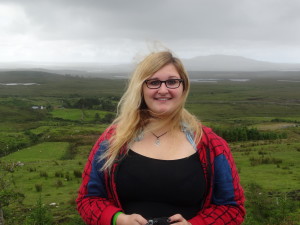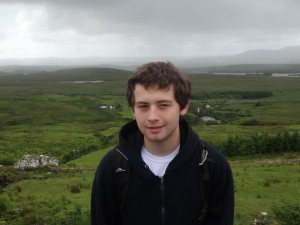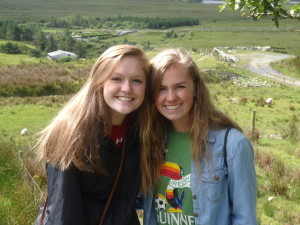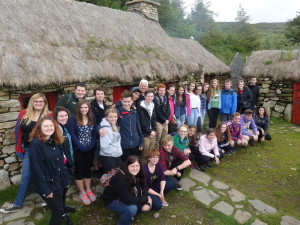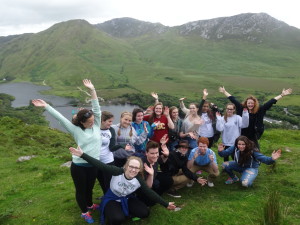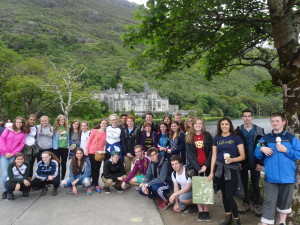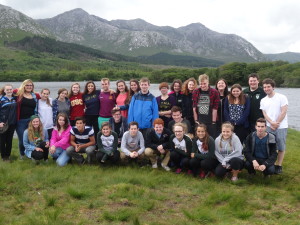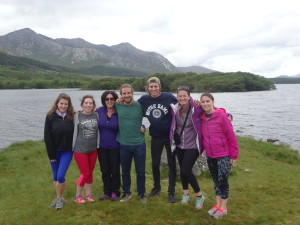 Our second day in Galway started a little bit earlier than most of our mornings on holiday. The first bus trip of our relatively laid back day led us to Dan O'Hara's Cottage. Our guide, Martin, led us up the Connemara countryside to a turf bog. He explained the process and reasoning behind using the 3,000 year old, oxygen deprived plant matter as an energy source. Martin demonstrated how the peat would be cut into log-like pieces that weighed about 12 lbs. After a little more than a week, the pieces of turf would weigh less than 3 lbs and would shrink in size because the water would have evaporated. Martin also showed us bits and pieces of a black oak tree that would've been alive thousands of years ago. Because there is no oxygen in the bogs, the wood was remarkably preserved, and it had hardened considerably because of the pressure throughout the years.
From the bog we squeezed our group of 36 full sized humans into a house that wasn't much bigger than Harry Potter's bedroom. We were all surprised to learn that Dan O'Hara lived here during the Famine with his wife and their seven children. We got a quick history of the cottage and the eight acres that the O'Hara family would've farmed while they were living on the self-sufficient farm. He pointed out notable geographical features of the land, a few towns, and even the Statue of Liberty somewhere way off to the west. Martin sang a few songs and told us Dan O'Hara's story of suffering, loss, adventure, and hope. He then moved a wooden board that revealed a hole in the ceiling and grabbed a nearly full bottle of unidentifiable contraband. He told us that it was poitín and explained that the Irish moonshine was still both illegal and regularly produced. A few of the ILE Staff tried to stomach a sip of it while the students took hilarious photos of cringing faces and lots of coughing. Did I mention that it's 70% alcohol? Right, that's a game changer. Needless to say, we kept your beloved students away from the poison for our safety and for theirs.
The next leg of our day involved a few bus singalongs and a trip to Kylemore Abbey. The clouds were finally starting to burn off and the sun began to show its face. We split into two groups. One group had time to go into the Abbey, take pictures, or hang out at the café while the other group was hiking up to a statue of Jesus overlooking the Abbey and Connemara National Park. Our guide told us that the Abbey had originally been a castle, then an Abbey, and was even converted into one of the best boarding schools in Europe by Benedictine Nuns. Rumor has it that Madonna's daughter was thinking about going to school here! There are still a handful of Nuns about the place, and one of them even has a few cows! We stopped at the statue which was about halfway up the mountain to take pictures and to soak in the views of the park. Although our guide doubted some of our shoe choices (Cough Cough, Miles!), most of us made it up and down the soggy mountain and slippery rocks with no problem at all. Most of us. There were a few soaked shoes and a couple of wet behinds, but all in all it was a great trip. Poor Rebecca and her Converse. RIP.
After we got back to Gort Na Coiribe, Casey and Miles went to have tea with some of the students. Amelia quietly wrote in her diary chiming in every now and then with a few witty words, while Evan searched for poetic inspiration amongst the candles and kitchen table banter. The "God Squad" wrote the most touching note to the ILE Staff and made personalized paper boats filled with candy as gifts. They they bombarded into the ILE Staff Apartment with balloons and danced around for quite a surprise. It was a special moment that ended with a selfie that was better than Ellen's.
When students signed in at 10 PM, they had to say goodbye to Scones. It was her last night with the ILE. The students wrote sweet love notes for her in a card. She gave everybody hugs, cleaned out her closet full of lies about being a River Dancer, and to say soft farewells to the students who have grown to love her over the past few weeks. Some students made plans to wake up to see her off at 7 AM. Just like that the sun set on another long and exhausting day of vacation on the little teddy bear shaped island with which our 2015 ILE'ers have fallen in love.