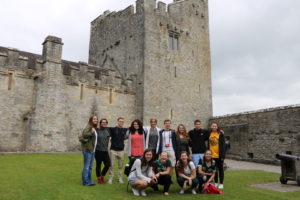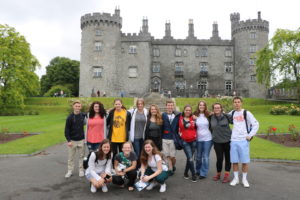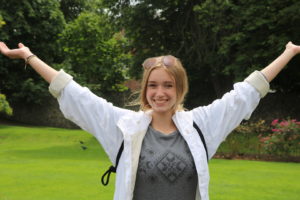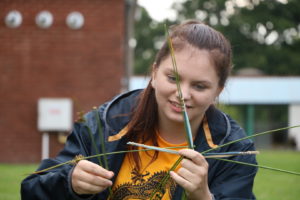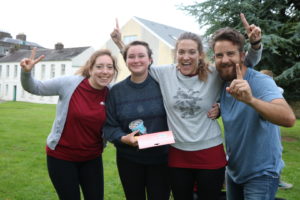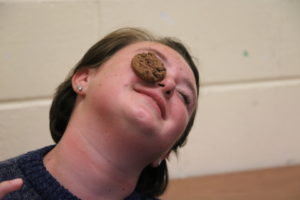 Today was a tour day to Cahir Castle and Kilkenny Castle-both very interesting places but in different ways. Cahir Castle, one of the largest castles in Ireland, is sited on an island in the River Suir (Where Scones fell into when she was twelve years old-a well known ILE fact.) It was built from 1142 and situated in Cahir town centre, County Tipperary. It had been occupied by the Butler family for 800 years! We had a guided tour and then were able to explore on our own. Taryn and Miles like to play a few tricks now and then by "BOO!" startling students and videoing their reactions in slow motion, which should make for a fun montage by the time we leave.
Kilkenny Castle, also occupied by Butlers, was grand in scale and elegance. From its hand painted wallpaper to the great dining hall and rose gardens. This castle had no shortage of luxury. Our French tour guide, Gerard, reminded us a lot of Mr. Bean and made for an interesting tour.
Students ate their packed lunches on the grounds of Kilkenny Castle, but that didn't stop some from purchasing a second lunch or coffee in town. We had two hours of free time to explore Kilkenny before heading back to Newtown School.
After dinner a handful of students played basketball-Abby, Brigid, Casey, Garret, Hannah, the Kane Twins, Michael, and Miles all showed their skills on the court-some better than others;). It was a fun form of exercise after a lot of food!
Tonight's workshop was St. Brigid's Crosses which students made out of long green rushes. Taryn led this workshop outside since the weather was nice.
Next up was TK's Minute-to-Win-It games. These were so fun! Students were split into teams of three or four and set up to accomplish challenging tasks in a minute each. One challenge was stacking glue sticks using chopsticks. Lauren completed this almost impossible task in record time! Another was to place a cookie on your forehead and move it down to your mouth without using your hands. This definitely was the most funny to participate in and watch!
Students took turns in their teams and then the teams would rotate stations, while each time Taryn would play the Minute-to-Win-It song which adds more pressure to the tasks. The first place team was Casey, Lauren, and Miles, who received a Cork flag and candy! The second place team also received Cork flags and included Anna M., Aubrey, and Rebecca.
Earlier in the day, Taryn had snuck off to the joke shop and bought some fake poo…, yep…, and gave it to Tippy's roommates who placed it by her bed! She screamed and they all had a good laugh. They left it outside their door over night and the cleaning ladies thought it was real in the morning! Luckily Shona was there to scoop it up for them.