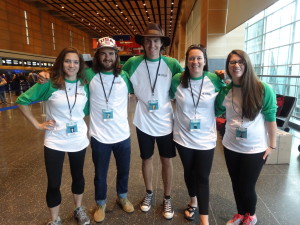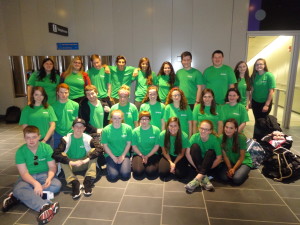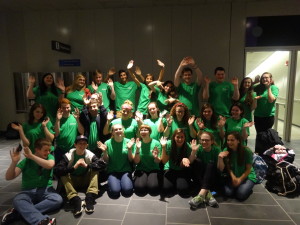 "The world is a book, and those who do not travel read only one page." St. Augustine

On Sunday, June 28th, the Irish Life Experience said "Bye Felicia" to the good ol' US of A for four weeks.
The morning began bright and early in Boston, as the ILE Team prepped for the students' arrival. It was finally "Game Day!" Taryn (Coordinator), Miles (Teacher), Casey, Kate, and Kent (Counselors) packed up the car and set out for Logan Airport around 12 PM.
Kent said he couldn't wait to meet the ILE 2015 students in a few hours. Not only was he looking forward to spending his first summer in Ireland, but also sharing it with 28 teenagers from around America and Canada.
When the ILE Team got to Logan Airport, they were lucky enough to have one of the teachers from last summer (Brigid) join them for departure day and help pick up students from connecting flights. They tried to convince her to come back to Ireland with them, but she had a few weddings she had already committed to this summer. They will all miss Cash Lundy.
The ILE Team was then greeted by Eme, from ILE 2014. She wanted to see off the new group of students and wish them well on their summer of a lifetime. Taryn said it was so wonderful to see her and it wasn't going to be the same without her.
As the day went on and with a downpour of rain in Massachusetts, it was imminent that there would be quite a few flight delays. Hopefully, it wouldn't prevent any students from making the 9 PM flight to Ireland.
Evan, from New Jersey, was the first to arrive at the airport around 1:30 PM. It was his first time on an airplane, so it was already a big adventure for him. He couldn't wait to get to Ireland, as his brothers and many of his cousins have participated in the program and shared their stories from Ireland with him.
Aiden, from Eagle, Idaho, was the next to arrive. He had been up since 3 AM to make his flights, so he was already feeling the exhaustion set in. However, he didn't let that stop him from grinning ear to ear with sheer excitement.
More students started to trickle in the closer it got to 5 PM. The Kane Family made an appearance, as they were dropping off Liam. Their daughter, Mary Clare and their son, Paddy have participated in the program. It is now Liam's turn. Next year they will have twin girls participating and the last girl will join the ranks in about six years.
The Keating Family also arrived with Michael, from Oradell, New Jersey. Michael's sister, Ann, an Irish Life Experience Alumae from 2012 was able to help send off her brother at the airport. It was great for the ILE Team to see her and catch up. Their sister, Maureen Grace, also went on the Program in 2010. The Irish Life Experience loves these family traditions!
John, from Island Park, New York and Josey, from Polson, Montana were a few of the last students to check in before proceeding through security.
Unfortunately, Clare, from Babylon, NY, had a connecting flight that was canceled. She tried very hard to make the flight to Ireland, but the Irish luck wasn't in her favor today. She would have to depart the next day.
The flight to Ireland was a quick five hours and fifteen minutes. The students had a choice of games, movies, music, and TV shows to occupy their time. Many watched Focus and the Great Gatsby, while others took the time to catch up on some precious sleep.
The students also had a choice of Chicken Korma, Shepherd's Pie, or a vegetarian option for dinner.
Josey was very intrigued with the meal, as she couldn't believe they gave you a small chaser of milk with your food. The ILE Team had a good giggle about this, as she didn't realize that it was actually for coffee or tea and not to drink.
Liam said the flight was awesome and that he had no complaints. It was also Liam's first time on a plane.
The Irish Life Experience landed safe and sound at Dublin Airport around 8 AM. They went through Customs and got their luggage. Luckily, they didn't have any lost bags.
They were greeted by Mark, from Tenon Tours and Angie, the Irish Coordinator. Kelton, from Winnipeg, Canada, also joined the group. He flew directly to Ireland.
After about 30 minutes, Alice, from Phoenix, Arizona arrived.
The ILE went back to the bus, before settling in for the long journey to Glendalough and Waterford. The #ILE15 Group was complete.