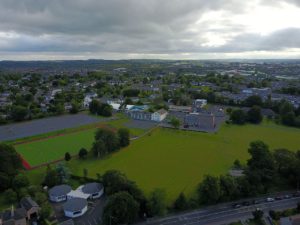 And so begins another day. This one was rather special as the Waterford leg of ILE 2017 finished and a new chapter began.
But anyway-enough of all that mushy stuff lets tell you about what we did today.
As usual, alarms went off at the crack of dawn (7:30 AM in teenager land!) and off everyone trotted to have the last nutritious and delicious breakfast in Waterford. After copious amounts of cereal and toast throughout the week-the Coco Pops, Cornflakes, Muesli, and Weetabix graced the tables for the final time and the last mouthfuls of said cereals were consumed before the kids grabbed their notebooks and pens and trotted off to class.
Scones taught the kids about the Irish Counties before teaching numbers in Irish and playing a game of bingo-and the winner was Bridget so well done you! During her next class Scones told the kids about Irish Myths and Legends and the story of the Salmon of Life.
In Michael's class, the kids were treated to information on Mounds, the Stone Age, and the Iron Age.
Following class the kids made their way back to the Canteen to have the last supper- or lunch-in Waterford, gave gifts to the fabulous kitchen staff who looked after us so well and were so lovely, and made their way to the bus to begin their next adventure.
We saw Peter again, who was our bus driver on the day the kids arrived from the States, and Taryn was delighted, as he is great craic and talks so much that the journey just flies by…
With a chorus of Bye Bye Waterford, the bus rolled off and two and a half hours later the bus pulled up in King's Hospital School and Angie was greeted with hugs, kisses, and screeches of welcome back.
King's Hospital is a great place to be and after the quietness of Waterford the group didn't know what hit them when they walked in to the school and were greeted by the noise of nearly 400 Spanish and Italian students. Aubrey said "I like all the other students-the Spanish kids are hilarious."
The kids were so excited-we have our very own dorm with two students per room and the best thing, according to the kids, was…, WIFI!!! How little it takes to keep our group happy. The dorm also has a common room where the kids can chill out, have a chat, check their Facebook, Twitter, Instagram, and Snapchat and generally be as happy as pigs in the proverbial.
Dinner was followed by Irish Dance and Casey said the kids were doing really well at dancing the Hay Makers Jig, which is their favorite dance.
During Drama class the kids finished off their Limericks and gave Angie, Scones, and Taryn a great giggle-the craic was great. The winning group was announced as Brigid, Hannah, Peirce, Rose and Tippy. For their prize they each received a book of Irish Wit and Wisdom so when they get back to their parents and start to quote funny things you'll know exactly where it came from.
Kids had free time in Liffey Valley Shopping Centre where, according to Garrett, Peirce bought a "sick jacket" (Not one that he was ill over, but one that was really cool!). Rebecca bought a gorgeous dress and chokers and John Paul came back with a fab new pink shirt, which he really suits.
At bed check the kids told us that:
"Rooms here are luxurious-I'm so happy!" -Anna M.
"Food here is great." -Hannah
Garrett told us that he just realized after a week in Ireland that "bank times are really messed up" (Took a week to realize that they close at weekends, but better than Angie who took two years to realize this even though she was born and bred in Ireland.).
It's an early start tomorrow so teeth were brushed, faces cleansed and hair brushed and at 11:00 PM lights were flicked off and all of a sudden the dorms became a quiet place…
Cool, wow, awesome.