Day 11 (July 9th):
Despite a brutally early wake up and a short breakfast, today is universally regarded as one of the most exciting and rewarding days of the trip. This is a day that almost becomes spiritual as students immerse themselves in the beauty of nature. Our destinations today were in Northern Ireland!
Our drive was around three and a half hours long and we drove up past Belfast to stop briefly at the ruins of Dunluce Castle for the kids to observe what the old archaeological site looked like. From there, we could look out at the horizon and see the Giant's Causeway. After taking a few pictures, we boarded the bus again and went to Carrick-a-Rede first.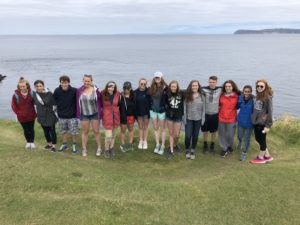 The famous rope bridge here links the mainland of Ireland to the tiny island of Carrickarede, inhabited by gulls and fulmar. To get to it, we walked along a narrow paved path that hugged the curve of the coast, bordered on each side with wildflowers and grasses. The sea air was deeply refreshing. All of our students crossed the rope bridge with no anxieties at all! Once on the island, we had a lot of free time to sit and contemplate. The students gave us all small heart attacks by posing near the edges but there were no mishaps and they were under our eagle-eyed gazes the entire time.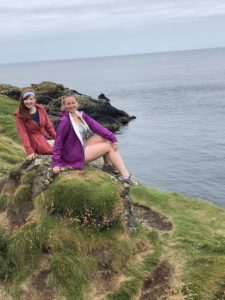 After experiencing this, Clare and Kennedy are excited to see the essentially similar but uniquely striking Cliffs of Moher in the upcoming weeks!
I think after the bridge and the associated hike, the students could have fallen asleep quite happily and called it a day — I know I did — but we persevered! Next up was the famous Giant's Causeway. Legend has it that Irish hero Fionn mac Cool created the bridge to fight a giant in Scotland, but upon realizing his size Fionn ran back along the Causeway so fast it disintegrated under his feet.
The students walked the very long and scenic route down the coast and rocky beach. It was a very windy day, but almost perfect weather for the hiking we were doing. Some students hopped from rock to rock to get all the best photos and others were content to sit and relax. We spent extra time here to explore the tide pools and rock formations. After the hard work the students put in to get to the Causeway, they had more than earned some time to themselves.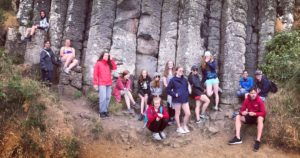 Once finished, we went down to Ballycastle for dinner and relaxing! The staff and a few students ate food from Morton's Fish & Chips which was absolutely incredible. Students enjoyed the sunshine and hung out around the beach. Ballycastle has an atmosphere of complete relaxation and it was a fitting end for a long and strenuous day. We got back to King's Hospital around 10 pm and the students went straight to bed.
As did the staff.