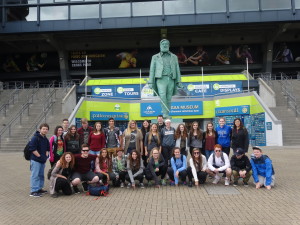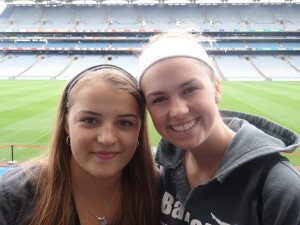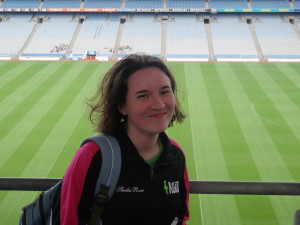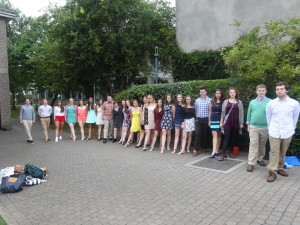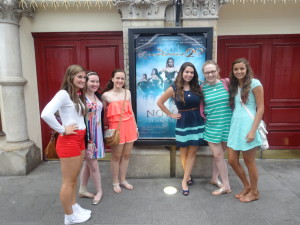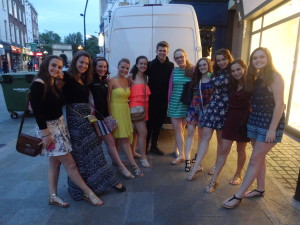 After an appetizing breakfast of warm croissants, chilled fruit, and a fresh glass of juice, we had our sixth day of classes. In Angie's Irish Literature, the students learned about Seamus Heaney, the 1945 Nobel Prize winner. She unpacked his background and some of his works, showed photos, and advised them to never try to hide a body in a bog if they end up murdering someone in Ireland.
In Miles's Irish American History, the students started giving their presentations about an Irish American person who inspires them. Some of the more noteworthy ones were Clare B.'s presentation about a determined Irish dancer, Michael Flatley, and Evan's brief history lesson on Enoch Johnson, a political boss from New Jersey.
After a short break, the students went on to their Irish Studies class taught by Taryn and a special guest teacher all the way from Waterford, Eddie. They team taught Irish slang to the group. You could only imagine the looks on their faces when they learned that a crisp is a chip, a chip is a french fry, and a fry is an Irish breakfast. Absolutely priceless! Other words that they learned that we all agreed were hilarious included undie grundie, gobsmacked, and minger. It was enlightening for the students, because they've heard Angie, Eddie, and Scones use slang that they understood about as well as they might understand Mandarin.
After lunch, we went to Croke Park to take a tour of the grounds. The stadium itself is the third biggest in Europe with enough seating for 82,300 people. More impressively, it is the most used arena in Europe and operates like a well-oiled machine. We were able to catch a glimpse of the 20 miles of tunnels and corridors before we went into locker room #2. Our tour guide, JJ, explained that the locker rooms were 100% identical, but because of superstition and strange traditions, #2 was always preferred to #1. Johanna and Molly knew they'd be cheering for West Meath in the football final on Sunday, because of their devotion to Niall, the boy band sensation from One Direction. We went through a few warm up exercises and balance drills, before heading out into the stadium for a bit of history and loads of photos. JJ gave us a crash course on the history of the venue and explained how significant Croke Park was for Dublin's history and then ushered us into a museum stocked full of memorabilia from boots to autographed hurleys. We were able to test our skills in an arcade of sorts. In one particular game that tested a player's ability to jump for a football, Kent leapt into the history books by being one of three people that JJ had ever seen jump to "catch" the highest ball.
The thing that happened next was, for some people, the highlight of their lives. Riverdance was an Irish Life Experience game changer this year. Kelly said seeing Riverdance was amazing, but what was more incredible was seeing it in Dublin, Ireland! Owen said he loved the tap dancers. After the students were blown away by an amazing performance, a handful went around to the back of the Gaiety Theatre and were able to meet a few of dancers. Molly burst into tears with excitement, when she met one of her favorite Irish dancers-Bobby Hodges. There were also selfies taken with Aiden Sexton and Ciera Sexton-both impeccable Irish dancers in Riverdance. What a treat, as the students even got autographs.
The night ended with a quick trip to Gino's for some gelato before getting back on to the bus to head back to King's Hospital. The next day was the Antrim Coast Tour that would start at 7 AM, so many students were anxious to get some much needed shut eye for the next day.
Oíche Mhaith! Good Night!